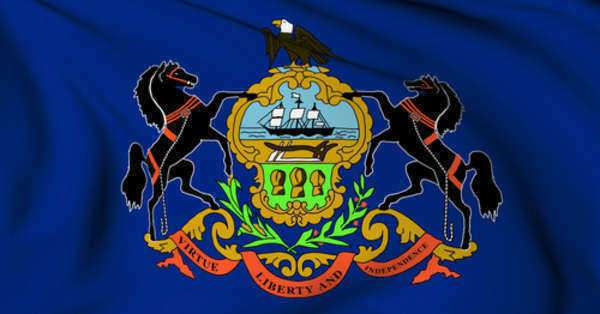 All new residents of the state of Pennsylvania are required by law to fill out an application for Pennsylvania title and PA vehicle registration for their motor vehicle(s) within twenty (20) days of establishing new residency in the state of Pennsylvania.
In order to complete the PA registration process, individuals must have a valid form of Pennsylvania identification. Although new residents have sixty (60) days to get a Pennsylvania driver's license, they can get them right away to make the PA vehicle registration process smoother.
Getting a Title before the Pennsylvania Vehicle Registration
A temporary Pennsylvania registration plate can be issued after an out-of-state title is submitted along with the application for a certificate of title in Pennsylvania. The Pennsylvania title process requires that the out-of-state vehicle title be surrendered to the Pennsylvania Bureau of Motor Vehicles when the person is applying for a new Pennsylvania title. A certificate of title from Pennsylvania will be issued by when the out-of-state title is given with the filled out Form MV-1, or the Application for Certificate of Title.
Requirements for Pennsylvania Vehicle Registration
In order to complete the PA registration process for your motor vehicle, you will need to have the following items:
• A valid vehicle title for all of the motor vehicles you wish to register in Pennsylvania, all of which are issued in your correct name, from your previous state.
• Proof of insurance from Pennsylvania, such as the declaration page of your insurance policy, your valid insurance ID card, a copy of your valid binder or your copy of the application for the insurance for the Pennsylvania Assigned Risk Plan for any vehicles you plan to register. These insurance documents must show both effective dates and expiration dates of the policies.
• A tracing of your vehicle identification number or its verification by either an inspection mechanic or a notary public from an issuing agent or at a dealership for your Pennsylvania vehicle registration.
• Appropriate lien, title, PA vehicle registration fees and any applicable sales tax. Any checks or money orders should be made payable to the Commonwealth of Pennsylvania. Cash is not accepted for the PA registration process.
• If you are completing the titling and PA vehicle registering process for a leased vehicle, the leasing company of the vehicle will also be required to give a completed Form MV-1L. This may require a Power of Attorney from the leasing company.
Pennsylvania Vehicle Registration Fees
Pennsylvania vehicle registration fees depend on the type of vehicle completing the PA vehicle registration process. The Pennsylvania Department of transportation only accepts checks and money orders for Pennsylvania vehicle registration. They will not take cash or credit cards at their offices. The PA registration fees involved include the following:
• Passenger Pennsylvania vehicle registration: $36.00
• Motorcycle PA registration: $18.00
• Duplicate PA vehicle registration (at time of first-time registration, transfer or renewal): $1.50
• Duplicate Pennsylvania registration (any time other than above): $4.50
• Replacement of PA registration plate or sticker: $7.50
• Replacement cab card: $4.50
• Additional cab cards: $1.50
• Application for retired persons Pennsylvania vehicle registration: $10.00
• PA vehicle registration change of address: no fee
Comments
comments